March 31, 2017
The Stow Municipal Court is a rarity in the state in that it does not pass along operating costs to the city it calls home.
For now anyway.
Clerk of Courts Diana Colavecchio told Stow City Council March 9 that the Stow court may be the only municipal court in the state that can boast of this.
"Quite honestly, you have a lot of courts out there that truly don't mind passing the cost on to their host city," she said. "They don't view it the way our judges do, that they should be self-sufficient."
Colavecchio said the court has no immediate plans to pass along operating costs to the city, but down the road, it is harder to say for sure because the trend in Ohio is leading such self sufficiency toward becoming a thing of the past. A statewide movement to ease the financial burden on lower income people has resulted in certain tools that courts have used in the past being taken away, said Colavecchio.
Colavecchio said this includes driver's license forfeitures and issuing bench warrants for those who do not pay. The court can still block people who have not paid from renewing vehicle registrations.
"We're seeing great revenue streams coming from [registration blocks] and that's about the only teeth we have," she said.
But another tool the court began using last year allows it to send debts to the Ohio Attorney General's office, which offsets payment against any state income tax refund the person may be due to receive. Last year, said Colavecchio, the court received about $35,000 from the AG's office doing this and about $74,000 to date this year.
"So we see the benefit of that," said Colavecchio.
She said the court is trying to collect on about $2.4 million owed to it, but this gets more difficult as such debt ages and grows "stale."
"Revenue will continue to decline for all courts," said Colavecchio.
Colavecchio said it is believed the Stow court can continue to operate in the black through 2018.
"Beyond that, no one can really say," she said.
According to figures provided by Stow Finance Director John Baranek, the court's proposed operating budget appropriation this year is a little over $2.92 million, higher than last year's approximately $2.84 million. Actual expenditures last year were about $2.75 million.
Baranek said the court's budget is included in the city's budget, which was up for third and final reading on March 23. The vote information was not available at press time.
Clerk's office appropriations in 2016 were a little under $1.33 million while actual expenditures were nearly $13,000 less.
Clerk's employee costs drop
A bright spot for the court is the clerk's office staffing costs.
The clerk's proposed personnel appropriations for 2016 were nearly $810,000, higher than the approximately $745,000 in this year's proposed budget appropriations. Last year's actual expenditures for clerk's office personnel was about $785,000.
Colavecchio credited the reduction in personnel costs to the court's new electronic filing system that has greatly reduced the amount of time it takes clerk employees to process case filings, thereby allowing the clerk's office to reduce staff through attrition — not filling positions that become vacant — from 19 full-time employees in March 2016 to 16 a year later.
"That has been working well," said Colavecchio. "It's a great efficiency and actually conserves a lot of our budgetary funds as well."
Council President Mike Rasor, however, said it seems like a "discrepancy" that this year's proposed personnel appropriations are only about $40,000 less than last year's personnel costs, a low amount for a reduction of three full-time employees.
"It looks on paper as if you lost one," he said.
Stow Budget and Management Director John Earle said there were "two factors" to explain this. One was the 27th pay period in 2016, a quirk of the calendar that Earle previously said forced the city itself to add around $500,000 to its own personnel costs in 2016, and the other was the periodic need for part-timers to supplement its staff.
Colavecchio said the clerk's office is still tweaking its new system and she has hope that overtime efficiency will increase and the clerk's office will be able to reduce staffing even more.
"Going forward, I think we're going to continue looking at every full-timer when they leave, giving a hard look, and 'gee, do we really need to replace that person with another full-timer?'"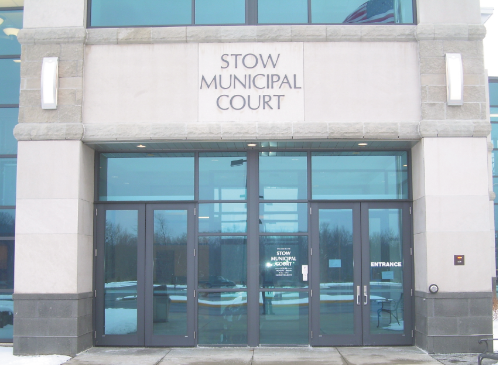 —
You can read the full article on the Stow Sentry Web Site [www.stowsentry.com] by following this link:
http://www.stowsentry.com/news%20local/2017/03/26/stow-court-operating-in-the-black-for-now