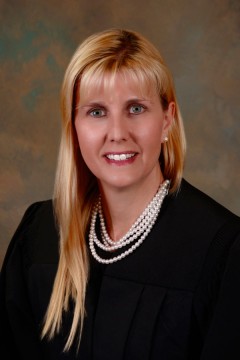 Judge Lisa Coates was appointed to the Municipal Court in March 2003 and elected to a six-year term in November 2003. She was re-elected to a second term in November 2009 and a third term in 2015.
She received her Bachelor of Science in Business Administration from Bowling Green State University. Following graduation, Judge Coates pursued a law degree at Case Western Reserve School of Law.
Upon graduation and admission to the Ohio Bar, Judge Coates was employed with the Federal Government. She began at the Department of Veteran Affairs and then transferred to the Social Security Administration. After a short time at a civil law firm, she started as an Assistant Summit County Prosecutor in the Criminal Division. She then became the judicial attorney for a judge at the Summit County Court of Common Pleas.
Since being on the bench, Judge Coates was an integral part of establishing the court's underage alcohol diversion program. She also established the court's first specialized court, a mental health court known as STRIDE (Successful Treatment Results In Developing Excellence). STRIDE received its initial certification from the Ohio Supreme Court in December 2013.
Judge Coates is a member of the Ohio State Bar Association, Akron Bar Association, Cuyahoga Falls Rotary and Cuyahoga Falls and Stow Munroe Falls Chamber of Commerce. She is also part of the judicial mentorship program established by the Ohio Supreme Court and has served on the Summit County Criminal Justice Advisory Board.