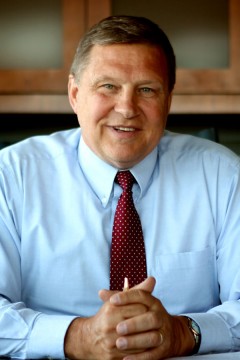 Kim Hoover has served as Municipal Court Judge since 1995 when he was appointed by Governor George Voinovich. He served on the Cuyahoga Falls City Council from 1990-1995.
Judge Hoover has been selected as one of the original ten mentors for the State of Ohio's municipal judges. He serves as a trustee of the Ohio Municipal/County Judges Association and serves on the Summit County Criminal Justice Advisory Board.
Judge Hoover was the driving force behind the creation of the Stow Municipal Court and the construction of the courthouse that is now a model for judges around the state.
Hoover is known for his imagination in solving problems. As an example, he is using grow lights confiscated from drug dealers to grow seedlings in the courthouse basement in early Spring for transplant into outdoor gardens tended by community service workers throughout the Summer. Not only does this allow indigent people to work off their fines but it also teaches skills, work ethic, and civic responsibility. The Akron Canton Food Bank, Good Neighbors, and the Battered Women's Shelter have received bushels of potatoes, peppers, cucumbers and other nutritious produce.
Judge Hoover graduated from Woodridge High School where he was an All-State athlete earning a full football scholarship to the University of Maryland. At Maryland, he was a First Team Academic All-American in football. The Atlantic Coast Conference awarded Hoover a full scholarship to the law school of his choice as the Student Athlete of the Year in 1976.
Hoover graduated from the University of Akron School of Law and was admitted to the Ohio Bar in 1979.