UPDATE:
The Stow Municipal Court has resumed normal operations. Case parties and members of the public are still required to wear facial coverings if they have not been vaccinated. Court staff will continue to sanitize all public areas of the courthouse frequently and abide by guidance from health authorities to ensure the health and safety of everyone entering the courthouse.
If you have a new case, start here:
The Case Management Dashboard will allow you to plead Not Guilty, Guilty/No Contest, or apply to enter the Safe Driver's Program. A member of the court staff will contact you to schedule future court hearings, if necessary. 
Other tools:
—
The Stow Municipal Court has jurisdiction over misdemeanor and traffic offenses committed within its geographical boundaries and civil cases in which the amount in controversy does not exceed $15,000. The Court handles about 20,000 cases per year.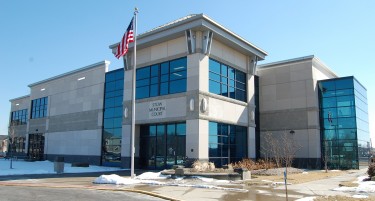 The Court serves sixteen communities in northern Summit County including Boston Heights, Boston Township, Cuyahoga Falls, Hudson, Macedonia, Munroe Falls, Northfield, Northfield Center Township, Peninsula, Reminderville, Sagamore Hills, Silver Lake, Stow, Tallmadge, Twinsburg and Twinsburg Township.
In 2009, the new courthouse was opened at State Route 8 and Steels Corners Road. The central location gives citizens throughout the district easy access to the Court. The building is paid for using court fees, not taxpayer dollars.

The Stow Municipal Court is located at:
4400 Courthouse Boulevard
Stow, Ohio 44224